Festive Food and Drink Ideas
Events Factor can provide an extensive range of delicious, exciting, mobile Festive Carts and Tricycles for your Corporate Event, Exhibition, Stadium or Office.
Our Festive menu for 2018 Includes :
Mulled Wine
Our Mulled Wine Carts will serve a selection of "Winter Warmers" including Alcoholic & Non Alcoholic Drinks. For our Mulled Wine we use a premium South African, Full Bodied Red Wine, Spices and Oranges. For a special touch we will bring along a choice of Sloe Gin, Amaretto and Brandy which all taste great with Mulled Wine.
Spiced Apple Cider
Whilst Mulled Wine is still an extremely popular choice with our regular clients, lots of people are also wishing to add in another Option. Our Spiced Apple Cider is made with a Somerset Cider (5% ABV) and our secret blend of spices and apple pieces. We can also bring along a non-alcoholic option if requested.
Hot Waffles and Toppings
Still one of our favourites – Always a very popular Christmas choice. Our staff will freshly prepare Hot Waffles for your guests – This will be served with a choice of Fun Toppings.
Marshmallow Tricycle – The Marshmallowist
New For 2018 – Incredibly excited to be working in collaboration with the amazing Marshmallowist to provide the perfect partner for your Christmas & New Years Celebrations. The Wow Factor.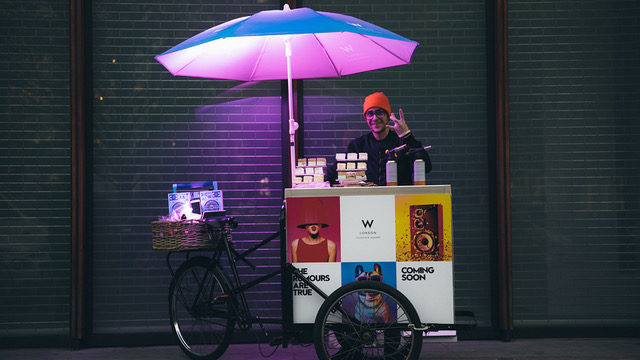 Our Marshmallowist Tricycle will arrive with a delicious selection of Gourmet Marshmallows, these will be toasted infront of your guests and served on a skewer.
Hot Chocolate & Pimping Station
Our Traditional Hot Chocolate Carts and Tricycles are incredibly popular this time of year – serving a piping hot cup of chocolate, lots of different flavours to choose from inc. Rocky Road, Luxury White Chocolate, Mint Chocolate and Salted Caramel. Toppings will include Cream, Sprinkles and Marshmallows. If your looking for an Alcoholic option we will happily bring along some Baileys ( Perfect Partners)
Mince Pies, Brandy Butter and Gingerbread Men
No office party or Event this time of year would be complete without a choice of these classics, served with Cream and Brandy Butter.
Jagermeister Tricycle
Our unique Jager Tricycle will serve your guests Ice Cold Jagermeister and Jager Bombs – The Tricycle is fully branded Jagermeister and is the only one in the UK. A great, fun option for Christmas Parties.
Snowy Cones
Snow cones are delicious in-hand refreshments made from ice cubes that are shaved into the consistency of snow using our Snowycone maker. This unique product is then drenched with high quality flavoured syrups to produce a refreshingly cool snack. "Snowy Cones on The Piste" is our adult version, adding in the option of an Alcoholic Cocktail Snowy Cone. Ideal for Christmas Parties.
Prosecco & Prosecco Cocktails
The ideal reception drink – Our staff will serve your guests guests a perfectly chilled Prosecco or Prosecco Cocktails, including Bellinis, Kir Royales and Sloe Gin Fizz. Plenty of Options available.
Christmas Cart 2018 – NEW FOR 2018
Can't make your mind up ? No problem, We will provide a selection of the above services all from one Cart or Tricycle – This is perfect for Offices & Receptions – Providing a compact Festive Food and Drink Station.
Indoor or Outdoor
Our Carts and tricycles will work inside or outside – We have 35 different units which can be used, the choice we largely be dependant on accessibility and number of guests to serve ( We can assist with these matters). We also have Gas Urns and Generators if power is not accessible.
Theming & Props – FREE OF CHARGE
All of our Festive Food & Drink Carts and Tricycles will be decorated professionally to compliment your Event, Office or Venue – We can even bring a Bose Sound System to play a pre-selected choice of Christmas Carols or Music.
ALL OUR SERVICES WILL BE ACCOMPANIED BY A SMART, PROFESSIONAL MEMBER OF OUR STAFF TO LOOK AFTER YOUR GUESTS. WE ALSO BRING DISPOSABLE CUPS, PLATES AND NAPKINS.