Ice Cream Cart Hire
Ice Cream Cart Hire
Events Factor provide you the opportunity to hire Ice Cream Carts or Ice Cream Tricycles for your special event.
We have the largest collection of Victorian Carts and Pashley Tricycles in the UK – They provide excellent promotional and marketing platforms as well as food stations. Please follow the link below to see some examples of our Promotional Carts
Having a real passion for ice cream we pride ourselves on using only the best product. All our ice cream is sourced from British cows using full fat Jersey milk and cream, making it the way Ice Cream should taste!
Our Ice Cream Carts & Tricycles can cater for all events from school fetes to corporate entertaining, indoor or outdoor. We understand that every event is unique and tailor our service to your needs to ensure you receive the best possible experience, from the minute you book until the minute we leave.
We pride ourselves in providing professional, well trained, smart uniformed staff – who will greet every guest with a warm smile. We hold current Food and Hygiene certificates.We are also covered with £5,000,000 Public liability insurance.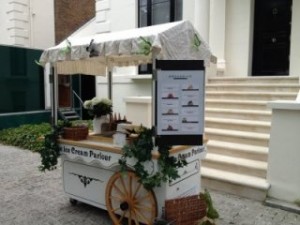 For further information on Branded Ice Cream Carts – please CLICK HERE Ideal for Corporate events, Exhibitions & Promotions.
Events Factor are delighted to announce they have gained certification and membership of the Ice Cream Alliance.
All of our packages include :
· Set up and service for 4 hours (additional hours can be arranged)
· Unlimited amount of ice cream for your guests
· Choice of 6 flavours of award winning ice cream
(We can supply Halal, Kosher, Dairy or Non Dairy Ice Cream)
· Premium Italian waffle cones and a selection of tasty toppings
· 1 or 2 members of trained uniformed staff ( dependent on number of guests )
At no extra cost we can customise our beautiful cart and uniforms to compliment any colour scheme. We can decorate with fairy lights for indoor or outdoor hire adding that extra bit of sparkle for any occasion.
Ice Cream Cart and Tricycle Hire