Pimms Mobile Bar
Our Pimms Mobile Bars are ideal for Corporate Events, Festivals & Shows.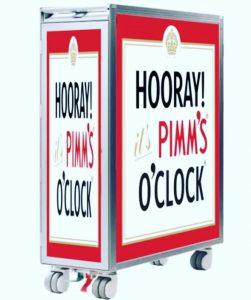 Depending on the size of your event, we have various options for serving your guests :-
Pimms Airline Trolley – Ideal for Indoor Offices / Receptions – Our staff can freely move this into various locations to serve your colleagues / guests a glass of Pimms.
Pimms Tricycles – Ideal for Indoor or Outdoor Use. Our tricycles can easily be wheeled into different locations – Extremely flexible solution.
Pimms Carts – Can be used indoor or Outdoor. Best suited to a static location, although they can be wheeled.
Pimms Kiosk – Complete with Optional Summer Garden Feature. Ideal for larger Corporate Events, Shows Or Festivals. High Volume Unit.
All our Pimms Mobile Event Bar services come complete with a "Pimms Uniformed" Member of Staff, Freshly Prepared Pimms Original No.1, Ice, Fresh Fruit & Glassware.
Pimm's Summer Garden Feature
We can also supply an optional extra – "Summer Garden Feature", this comes complete with white picket fencing, Seating, Parasols, Pimms Peepboard and Pimms garden games.
Previously our Pimms Mobile Bars have been used for Corporate Hospitality Packages, Covent Garden, Racecourse Meetings, Sporting Events, Festivals, Promotional Events & Weddings.
Pimms Mobile Bars, Tricycles, Carts & Kiosk