Mulled Wine Cart, Tricycle & Stalls
Mulled Wine Cart, Tricycle & Stalls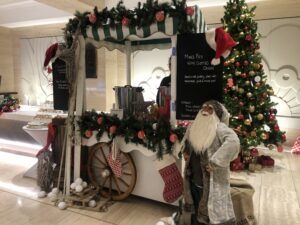 Our Mulled Wine Carts, Tricycles & Stalls are ideal for :
Shopping Centres
Corporate Events
Christmas Markets
Exhibitions & Conferences
Promotions
Warm alcoholic & Non-Alcoholic drinks are perfect for winter events and Christmas parties. In these cold winter months Mulled Wine is the perfect companion for your festive celebrations.
Our Mulled Wine Carts can serve a choice of Alcoholic and Non-Alcoholic Drinks:
Mulled Wine
Hot Toffee Apple Cider, with Dark Rum & Spices
Rum Punch
Hot Toddies
Boozy Hot Chocolate, With Baileys
Warm Spiced Apple
Warm Cranberry Juice
Luxury Hot Chocolate ( Without Baileys )
Our Victorian mulled wine cart and tricycles are ideal for serving your guests. The carts will be dressed and themed for your event.
Our premium Mulled Wine is made from a blend of smooth, quality red wines which is naturally sweetened and then skilfully blended with cinnamon, nutmeg, cloves and aromatic spices by experienced blenders – The perfect way to get into the spirit of Christmas.
Please Note – Our Mulled Wine Carts & Tricycles are always a popular choice, so please ensure you "Book Early" – Thank You.
Mulled Wine Cart, Tricycle & Stalls – Corporate Events, Promotions & Exhibitions