Personalised Ice Cream
Events Factor now provide individual "personalised" ice cream pots for your Corporate Event, Exhibition, Conference or Venue.
VENUES
We are extremely confident we can help you achieve Gross Profit Margins of 60% – 70% with our Custom Creations.
We can now provide your venue with its own brand and flavour of ice cream – served in 100ml individual pots, filled with your choice of delicious ice cream, complete with spoons.
We can even colour coordinate your ice cream to compliment your branding.
This solution effectively allows venues to retail a totally unique product to themselves therefore enhancing margins and profitability.
Ideal for Cinemas, Venues, Theatres and Sports Stadiums.
CORPORATE EVENTS / EXHIBITIONS / WEDDINGS
Want to make your event that little bit more special? Our new personalised service could just be the thing for you! At Events Factor we are giving you the chance to customise your own ice cream and packaging to suit your event.
You can display your corporate brand, message, photos, pictures or images, your guests can enjoy great tasting ice cream with your own added personal touch!
It is guaranteed to leave a lasting impression!
Minimum order is only 100 pots.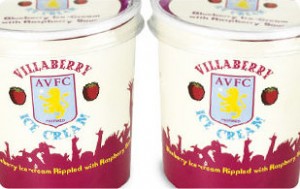 CASE STUDY – ASTON VILLA – VILLABERRY
This ice cream was specifically personalised for Aston VIlla Football Club – an instant hit with the club and the fans!