Wimbledon Themed Carts & Tricycles
Wimbledon Themed Carts & Tricycles
Following on from last years massive success we will be introducing a number of new Mobile Food & Drink Services. Previously we have supplied these services for Wimbledon, Aegon Tennis Championships, Shopping Centres ( Ideal for those centres looking to screen the tennis matches ), Corporate Events and Hospitality.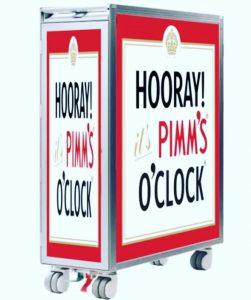 Please see below just a few of the options we can provide :
Strawberries & Cream – Fresh English strawberries, served with a choice of Cream or Ice Cream
Pimm's Airline Trolley – Ideal for offices / Reception Areas – Our staff freely move these into various locations, perhaps serving Pimm's through out your offices.
Pimm's Mobile / Pop Up Bars – We have an extensive collection of mobile bar units, these can be cater for small & large events. Options available for Inside or Outside.
Cream Tea – Our staff will serve a delicious Cream Tea for your event – Scones, Roddas Clotted Cream and Tiptree Jam.
Prosecco / Sparkling English Wines – These work incredibly well for Pop Up events & Reception Drinks. Our drinks menu can be tailored to include Alcoholic and Non – Alcoholic options.
Ice Cream – We have a wonderful fleet of mobile Ice Cream Carts & Tricycles serving a delicious treat for your guests.
We will provide the complete solution for your event – Our professional staff will prepare and serve your guests their Wimbledon Treats.
All our units can be "Wimbledon Themed" including Picket Fencing, Astroturf, Tennis Balls & Rackets – Please see some of the images below for ideas.
Please note this is an incredibly busy time for us, so please don't delay reserving your services.